As parents of a special needs adult ourselves, we know your time is precious. If you would like to see if your insurance will cover a safety bed, please click on the link below and fill out our insurance form. We will reach out to your insurance and see if they will fund your safety bed. You will also recieve a huge discount on one of our travel beds to use till our permanent bed is approved. A discount code will be emailed to you after filling out the form.
get your bed funded
We make sleep possible for special needs families!
Testimonials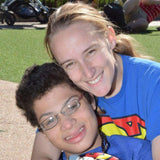 Places we've went with our Safe Place Bed... 
Disney- 4 times,  ️Ohio- 6 times , New Jersey- 2 times, Pigeon Forge, TN, Atlanta, GA, Visiting family out of state- 3 times , Stayed in a Train Car, Cabin- 3 times, ️My backyard camping more than I can count! 
Just got ours!
The construction of the bed and the pump are amazing. The carrying duffel is even really well planned. We take our first family trip in 23 years next week! We are so excited that a company brought a safe and COST EFFECTIVE approach!
When I seen a picture of the Safe Place Bedding- I just knew instantly that it was rather perfect. Perhaps the detail that I love the most is that it is designed by special needs parents who were aiming to help their own son, and wound up creating something that helps the special needs community.